Not only has Pennsylvania seen a rapid growth of independent breweries, brewpubs and craft options over the last few years – Greater Reading is leading this trend.
Let us guide you on a weekend beer crawl. Cheers!
Starting in Wyomissing, the newly opened Sly Fox offers a great mix of historic and modern design. The reclaimed original bricks ooze character and the sleek subway tile adds a touch of class. The beers to look out for are their Royal Weisse, a traditional Bavarian-style wheat beer and their Vulpulin IPA, perfect for a warm summer day.
Moving down the street into West Reading, Barley Mow is our next stop. While they do not brew their own beer, they have over 750 craft beers available. You're sure to find something new, or an old favorite to share on their remodeled outdoor patio. If you don't plan on staying in, you can get a growler of your brew of choice to go.
Right down the street is Chatty Monks. Chatty Monks is a now mainstay in West Reading, having been open for over 5 years. Their unique beers can be anything from a Mojito Cider to a classic Belgian ale. Their food features an eclectic mix of choices with names like "Flying Monkey" wings and Hoppy French Friars. It is a must-visit on any true beer crawl.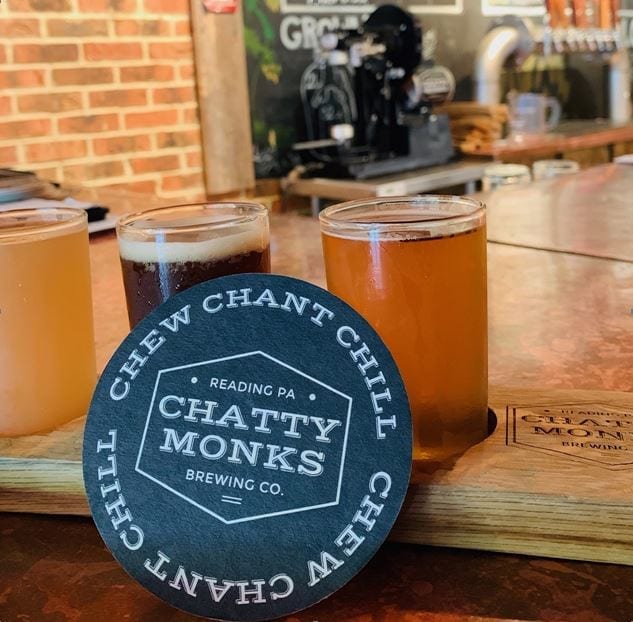 The next stop is Beer Wall. And it is exactly what it sounds like, a wall of beer. The first of its kind in the State of Pennsylvania, a self-service taproom with over 50 taps. You get a prepaid card and can try whatever you'd like by the ounce or the pint. You can pick your perfect pour and how much you want. They have a great food menu too, so picking their Pretzel Bites or Hot Chicken as a snack is a wise move mid-crawl.
The final stop (for now) on our tour is Broken Chair Brewery. One of the newcomers on the block, they can certainly hold their own on brews. Their beer flights are a great way to taste your way through their great offerings. At any given time, you can find at least a dozen unique offerings to satisfy even the most seasoned beer fans. They are a warm and welcoming brewery which is the perfect start or end to any trip.
Beer is here. Greater Reading is truly a beer-lover's paradise. Next time you're in town, make sure to give a small brewery a try. They could be home to your new favorite beer or entrée. We love the diversity of breweries and offerings in West Reading. Check back later for a county-wide edition focusing on hidden gems like Schaylor Brewing Company, Oakbrook Brewing Company, and Canal Street Pub. These neighborhood institutions are local favorites and could be your new local bar when you decide to Meet Greater Reading.