people within an overnight's drive
Active Freight Rail Lines
Few locations on the East Coast offer a more central location than Greater Reading, PA. Our community's professional diversity and continuous economic growth makes it an ideal place for companies to expand and grow. Beyond a robust workforce, Greater Reading is also just hours away from world-class cities. Philadelphia is just 50 miles away, New York and Washington, D.C. are just over 100 miles. Boston, Richmond and Toronto are all within overnight driving distance. With multiple airports, freight railways, and easy-to-navigate interstates and highways, we know nothing stays out of your business's and employees' reach with our reliable and efficient transportation networks
With access to major Interstates, both people and supplies can reach anywhere – quickly.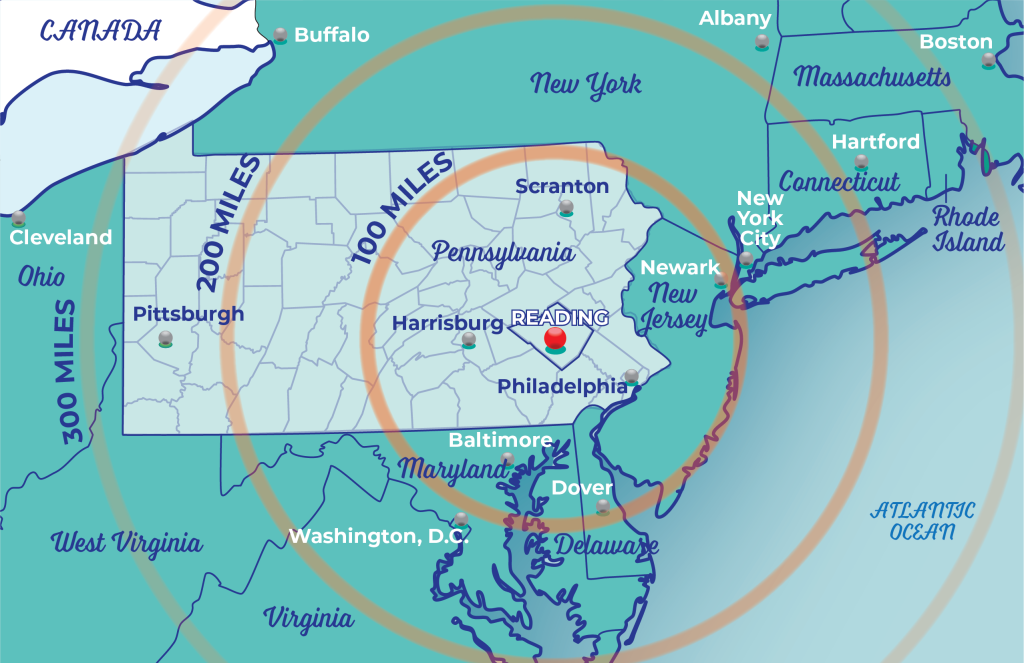 For efficient and cost-effective air travel, Greater Reading boasts three international airports all within an hour's drive: Harrisburg, Lehigh Valley and Philadelphia. Each airport gives you non-stop regional, national and international flights. The Reading Regional Airport features two approaches, full terminal, and restaurant, it's the perfect place for charter service. The airport is adjacent to two of our region's industrial parks: Berks Park 183 and Bern Business Park.
Learn more about Foreign Trade Zone 147 can benefit your business here.
Our local railways provide businesses the routes they need for parts and products coming into or shipping out of the region. For instance, the Norfolk Southern Railroad provides companies access to bulk shipments via a reliable intermodal network. What's more, the restoration of the area's passenger rail service will provide additional travel options to support the regional road system, but it will also provide greater economic and community development opportunities for business owners and employees