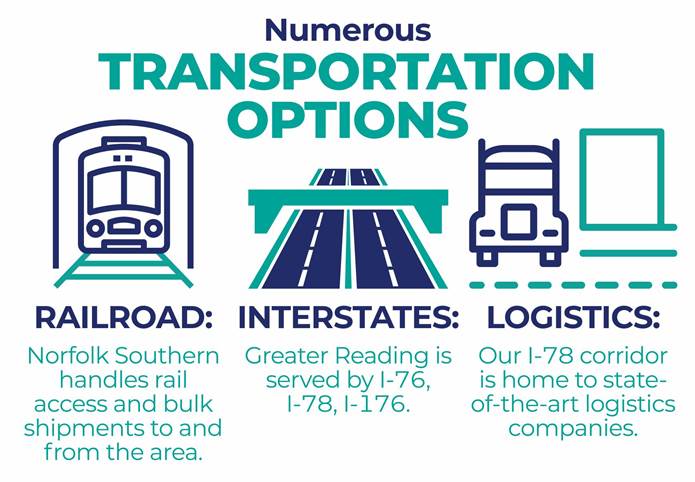 Planes, Trains, and Automobiles
Greater Reading, Pa., is strategically located in the heart of the Northeastern United States, with easy access to major metropolitan areas including Philadelphia, New York City and Baltimore—you can get anywhere from here! With transportation infrastructure that includes highways, airports, rail lines and close access to port facilities, Greater Reading is well-positioned for the transportation of both goods and people.
With plans for continued investment in transportation infrastructure, our community is committed to providing businesses and people with the resources they need to succeed in a global economy.
Berks County boasts direct aviation access through the Reading Regional Airport (RRA), a public-use facility with a 6,349-foot runway capable of handling a variety of aircraft. The airport serves as a hub for general aviation in the region and provides businesses with access to air transportation for travel and shipping needs.
Recently, the RRA received approval for an Airport Land Development Zone (ALDZ)—a program that encourages and promotes the creation of new aviation-related jobs through airports in the Commonwealth of Pennsylvania. New jobs can be created through the utilization of undeveloped land and/or vacant buildings owned by airports, with a $2,100 tax credit per net new job created. To learn more about available sites at the Airport, contact Airport Director, Zackary J. Tempesco.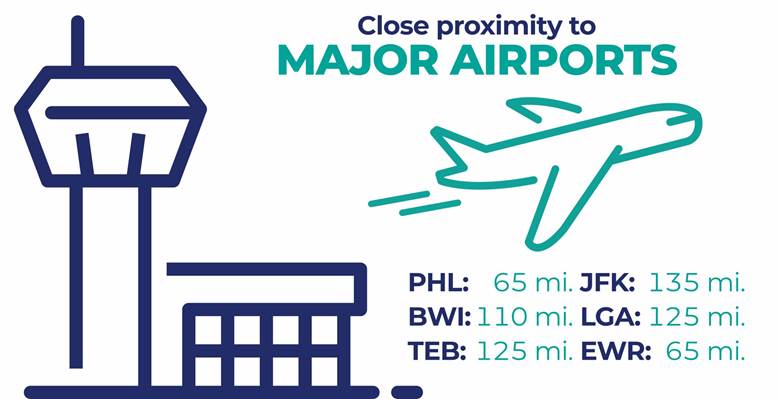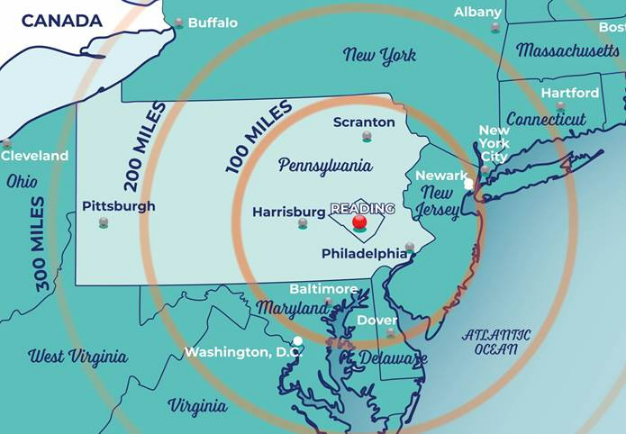 Approximately 2 hours to get to:
Baltimore/Washington International Thurgood Marshall Airport (BWI)
Harrisburg International Airport (MDT)
Lancaster Airport (LNS)
Lehigh Valley International Airport (ABE)
Newark Liberty International Airport (EWR)
Philadelphia International Airport (PHL)
With a well-developed freight rail infrastructure, the county is served by several major railroads:
Norfolk Southern: Operates several rail lines in Berks, including a major line that runs east-west through the southern part of the county
Reading Blue Mountain and Northern Railroad (RBMN): – A short-line railroad that operates several rail lines in Berks providing connections to the Reading and Pottsville areas
East Penn Railroad: Operates several rail lines in eastern Berks, connecting the region to Allentown and the Lehigh Valley
Several major highways connect the area:
Interstate 78 runs east-west through the southern part of the county, connecting the region to New York City and the Lehigh Valley to the east and Harrisburg and points west to the west
US Route 222 runs north-south through the county, providing access to Reading, Allentown and Lancaster
Interstate 76 is easily accessible, with multiple interchanges in the region
These highway connections provide people and businesses in Berks County with easy access to major markets and transportation hubs. Additionally, the county's highway infrastructure is supported by a range of logistics and distribution companies, including trucking firms and warehousing facilities, making Berks County an ideal location for businesses with supply chain needs.