By Aaron Gantz, Director of Economic Development, GRCA
Location drives where people want to live, work and grow a business. We know Greater Reading has a great northeast United States location, but there is a bigger story to tell than a place on a map. Greater Reading is a community where diversity is one of our greatest assets — in industry, in people, in housing and in cultural amenities.
Energy storage, customized logistics solutions, world-renowned gourmet desserts and chocolates —what do they have in common? They are all made and headquartered in Greater Reading. This diverse base of growing companies provides stability to the local economy. The continued stability of the area's largest industry sector, manufacturing, is evidenced in the industry's large contribution to the County's GDP at over $4.7 B.
How do we know the cost of living is lower in Greater Reading?
The Greater Reading Chamber Alliance (GRCA) participates in collection of local data for the Cost of Living Index (COLI) compiled on a quarterly basis by the Council for Community and Economic Research (C2ER)*. C2ER uses over 60 carefully selected goods and services across six weighted categories — each of which contribute to the composite index or the area's cost of living number.
Anything below 100 is considered more affordable than average. Year over year, the COLI for Greater Reading (Reading, PA MSA) has remained under 100 – coming in at 98.0 in 2021. For comparison, the Commonwealth of Pennsylvania is 102.5 and the national average is 100.0.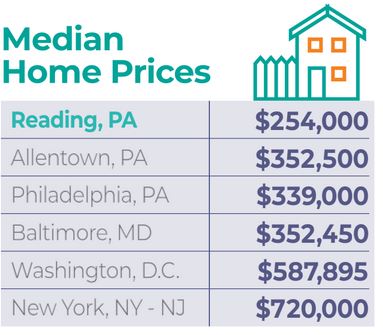 Source: Realtor.com
The cost of housing is a significant portion of the Cost of Living Index calculation and while we are seeing price increases nationally, the Greater Reading median household price remains lower than neighboring metropolitan areas.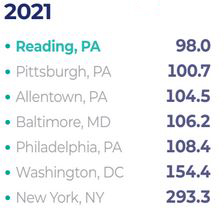 Key Industries in Greater Reading
Greater Reading's diverse companies can continue to grow because our population is growing. As of 2020, the City of Reading is the fourth largest city in Pennsylvania. It is also one of the youngest and most diverse cities in the state — the median age is 30 and the growing Latinx population accounts for nearly 70% of the population. The community at large continues to experience growth and population migration from the New York/New Jersey metro areas because the area offers a high quality of life, opportunity jobs and a lower cost of living.
All of this data adds up and as a result, Greater Reading has earned top spots in the U.S. News & World Report's Best Places to Live 2022-23 rankings.
This data allows both people and businesses to make informed decisions about their next steps.
We know the cost of living is critical for people making decisions on where to live and for businesses making decisions on where to grow and locate. These costs affect people's quality of life and business's bottom lines. Your money goes further in Greater Reading.
*The C2ER data is recognized by the U.S. Census Bureau, U.S. Bureau of Labor Statistics, and CNN Money. Their data and methodology are described in detail and completely transparent to users. Both data and methodology are reviewed by an Advisory Board composed of academic researchers and government officials.