Every year, Pennsylvanians and visitors flock to the PA Farm Show in Harrisburg. In recent years, the attractions of food and fun have now been bolstered by beer. Luckily, Berks County has countless breweries, but when one wins a statewide award, that deserves recognition.
Saucony Creek
Saucony Creek Brewery, headquartered in Kutztown, has been a local favorite for years. From some of their hits like Unicorns Stomping Lanternflies, the Kutztown Golden Bear, and finally the Maple Mistress Ale. The latter is the beer we're here for today. Winning Best of Show for the Barrel-Aged category, Rum Barrr Aged Maple Mistress is now a state champion. If you don't happen to be in the neighborhood in Kutztown, you're in luck. In 2019, Saucony Creek opened a Gastropub in Downtown Reading, at the Franklin Street Station.
Franklin Street Station was built in the 1930s in the Renaissance Revival Architectural style and was restored in 2013. It features a 30-foot-high ceiling, terra cotta walls and terrazzo floors. The large three-story arched windows provide a perfect view to see the trains rolling past, which prompts restaurant guests to erupt in applause. This is the newest restaurant to join Downtown Reading, and certainly one of the most breathtaking. The first time you walk in, you will be taken aback by the truly stunning architecture. Saucony Creek has helped this building stand the test of time and be open to the public to enjoy.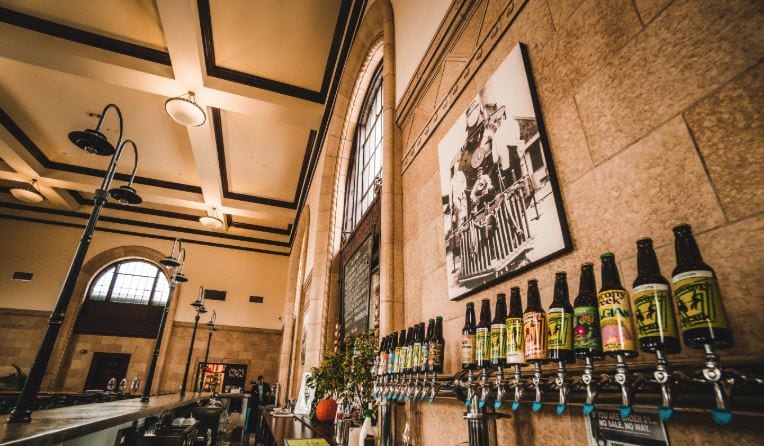 Speaking of enjoying, when you are eating at the Gastropub, you must try the other award-winning item, the Shrimp and Grits. Jumbo Red Gulf Shrimp piled on local grits flavored with the heat of guajillo arbol chiles will warm up any cold day. Pair this with the Maple Mistress for a sweet note to calm down the heat, and you have a winning combination.
Night Out Plan:
Get tickets to a local Reading Royals Hockey game, before the game, head over one block to Saucony Creek Gastropub for food and drinks. Come visit Downtown Reading and share a pint with an old friend or make some new ones.