Bring Greater Reading's farm products straight to your table
By Katie Hetherington Cunfer, Director of Government & Community Relations, GRCA
Locavore: lo·ca·vore /ˈlōkəˌvôr/
Noun – a person whose diet consists only or principally of locally grown or produced food.
Calling all locavores! In 2022, Pennsylvania was ranked No. 2 in direct-to-consumer agricultural sales. Berks County is in the epicenter of this movement with a diverse mix of fresh local foods and unique regional culinary delights. We are blessed to have a robust and thriving agricultural community with many farms maintaining their own on-farm markets, selling products in area stores and offering family friendly agritainment opportunities. The bounty of Berks County makes eating local easy and fun. Here are just a few of the great places to visit, purchase local products and support Berks County farmers.
ACEC FARM MARKET
ACEC Farm is a fourth-generation farm operation owned and operated by the Kampf family. It's tucked away off Route 61 on a picturesque farm in Shoemakersville. The family raises antibiotic-free hogs and the crops to feed their animals. They operate a store located on the farm where
they sell their pork products. The store carries products from several other Berks County farms including beef, lamb, goat, chicken, honey, cheese, ice cream, iced teas and so much more. Be sure to try the ACEC's pork sticks and flavored sausage links.
The Kampfs pride themselves on educating the public about agriculture and will gladly show their customers how they raise their animals. You can see their happy pigs from the front door of the store and know that your food is being raised with care. They are PQA (Pork Quality Assurance) and
BQA (Beef Quality Assurance) certified and strive to produce the best consumer products available.
469 Adams Hotel Road, Shoemakersville | acecfarmandmarket.com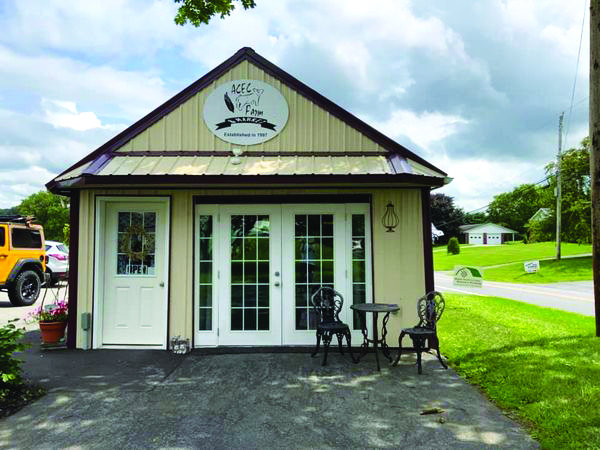 THE NESTING BOX FARM MARKET & CREAMERY
The Nesting Box, operated by the Bauscher family, offers a variety of products including its own cage-free eggs and meats, cheese and bakery products from over 14 other area producers. It's most known for its artisan ice cream favors that are as limited as owner Timi Bauscher's imagination.
When you visit, say hello to the friendly, farm kittens and take in the peace and quiet of the mountains of Berks County. Be sure to follow The Nesting Box on its social media feeds for pictures of the beautiful farm and mouthwatering ice cream. Take a break from your diet and treat yourself!
230 Snyder Road, Kempton | tinyurl.com/thenestingbox
LOCAL LEAF MARKET
Local Leaf Market (previously Oley Valley Organics) is a grocery store that offers some of the widest variety of locally produced products from area farms and businesses. It features goat cheese and milk from Dove Song Dairy, dairy products from B.A.D. Farm, Gauker Farms' beef, locally
roasted coffee beans, Portch Tea Kombucha and many other fresh, in-season varieties of produce.
Local Leaf Markets also offers a diverse selection of organic and gluten-free products. The store has its own kitchen where staff prepares healthy deli salads, soups and delicious baked goods as well as ready to-heat meals from local businesses like Oley Ravioli and foodleigh.com. The products offered at Local Leaf Markets are always changing so every trip you will find something new (and tasty) to enjoy.

3071 W. Philadelphia Avenue, Oley | localleafmarket.com
PLUM CREEK FARM MARKET & CREAMERY
Plum Creek Farm Market & Creamery is owned and operated by the Zimmerman and Nolt families and combines a 52-acre farm, small grocery store, creamery, restaurant and entertainment area. The grocery offers its own in-season fruits and vegetables in addition to produce from area
farms, dairy products, ready-to-eat items, deli products, bakery items, PA Dutch-style canned goods and a full freezer case. The Creamery is a full-service, short-order restaurant offering burgers, giant soft pretzels, sundaes and hand-spun milkshakes.
Plum Creek also offers the ability to pre-order items online and pick them up on the way home. It happily welcomes groups large and small to visit, shop, relax on the patio and play on the giant playground — making it a great place for the entire family.
5035 Bernville Road, Bernville | plumcreekfarmmarket.com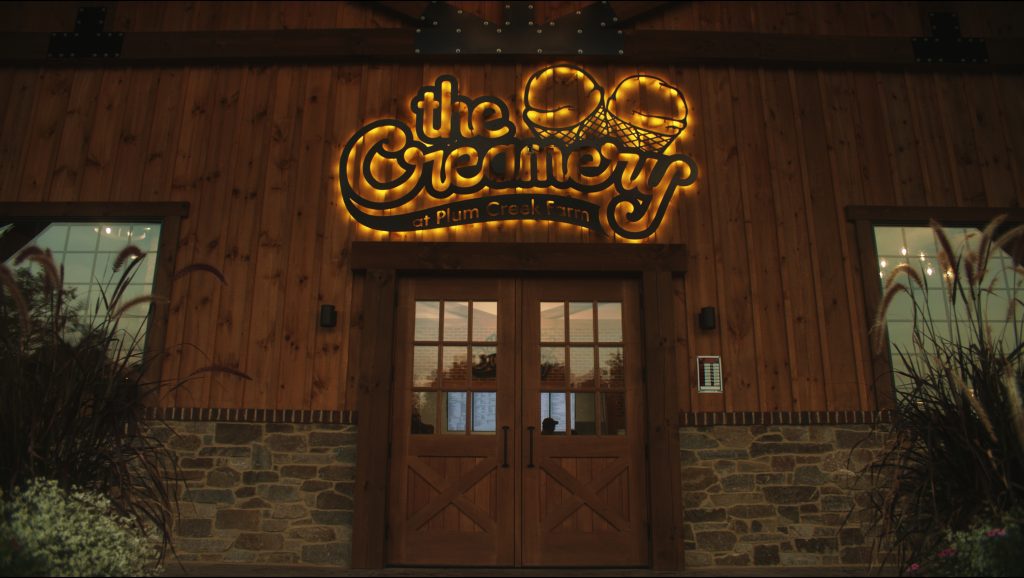 WEAVER'S ORCHARD, INC.
Weaver's Orchard, a fourth-generation farm owned and operated by the Weaver family, is both a fully stocked farm market and a pick-your-own operation with every berry and tree fruit that grows in Pennsylvania's climate. Ed Weaver even developed his own variety of apple, the Star Gala. The market features its own produce, in-house bakery, local dairy, eggs and meat products along with a coffee shop, and garden center. You can even send loved ones a gift box of Weaver's apples to share a taste of Berks County.
Weaver's is open for field trips all growing season long and offers free agricultural lesson plans for teachers. The tours focus on planting, pollinators, harvest and food processing. The orchard hosts seasonal events including its spring blossom experience, read 'n' pick story time, pumpkin carving and can host private events and birthday parties. Every visit to Weaver's will be a new experience.
40 Fruit Lane, Morgantown | weaversorchard.com