The largest center for the arts in the country calls Greater Reading home
By Levi Landis, Executive Director, GoggleWorks Center for the Art
People who make beautiful things also make great cities. At GoggleWorks Center for the Arts (GoggleWorks), a nonprofit art center that comprises a full city block in downtown Reading, PA, visitors, artists and students travel from miles around to engage a burgeoning city with a vibrant art scene. GoggleWorks strives to transform lives through unique interactions with art. It operates out of the former Willson Goggle Factory, which is how it got the "Goggle" in its name. Today, 150 years since its construction and 15 years after its inception, GoggleWorks offers:
100+ art classes and workshops for a variety of ages and skill levels
Dozens of youth programs and camps, including scholarships
50 independent films and other events in the Albert & Eunice
Boscov Theatre
15,000-sqare-feet for weddings, events and rentals
The New Store with handmade art from local makers
Restaurant and bar
45+ dynamic art exhibitions in three galleries
Nine communal studios — hot glass, wood, 2D, print, warm glass, metals, ceramics, photography, virtual reality and urban garden
35 on-site, studio artists
GoggleWorks is open daily from 9 a.m. to 9 p.m., and admission and parking are always free. The co-founders — Marlin Miller, the late Albert Boscov, and the late Irv Cohen — were adamant about making high-quality art and education programs as accessible to as many as possible, now totaling some 250,000 visitors each year!
In addition to visitors, the art center is committed to serving the significant needs of artists, students and families in the region through a host of scholarships, outreach programs, art therapy programs, career development, residencies and fellowships. Since 2020, the art center turned its mission further outward, activating outdoor public spaces through a variety of placemaking programs. The shift has proven a major expansion for the nonprofit, launching dozens of mobile programs and interactives in a variety of art mediums, including a new portable, hot glass furnace.
Also, during this time, the nearby Lauer's Park Elementary reached out to GoggleWorks for help maintaining its robust student gardens, which had fallen into disrepair due to pandemic restrictions on volunteers. A coalition of stakeholders and a multi-year grant from the Wyomissing Foundation helped establish The GoggleWorks Gardens at Lauer's Park, a partnership between the school, art center and local and national partners including Rodale Institute and Longwood Gardens. Now, GoggleWorks is developing outdoor portions of its campus to expand these outdoor programs and serve thousands more tourists and city residents with a dynamic, public art park.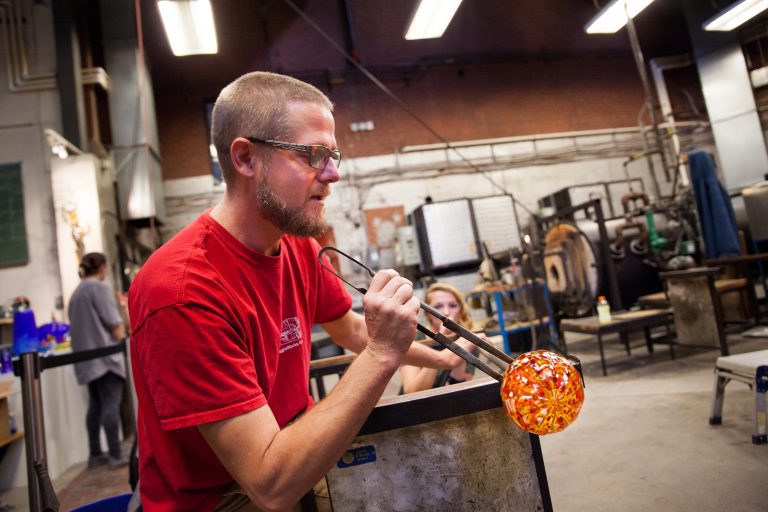 OCTOBER
Pumpkin Palooza (second weekend)
IX Magical Realism Conference (third weekend)
Reading Film Festival (last weekend)

DECEMBER
Arts Festival Reading & Holiday Market (first weekend)

MARCH
Berks Jazz Fest (last weekend)