Greater Reading has a thriving wine scene. Whether you are looking for full bodied or light bodied red, white, rose, sparkling or dessert wine Greater Reading has it all. Deerfoot Vineyards and Winery is a small boutique winery located in the rolling hills of Greater Reading. Producing red, white and specialty wines along with meads, they are sure to fulfill your entire families' desires.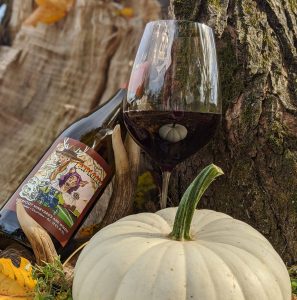 Deerfoot Vineyards and Winery is located on Deerfoot Farm, a 70-year-old family farm. Dan Brown the third-generation farmer has added grape vines to the farm to grow the grapes needed to produce wine. Continuing to produce soybeans and top-quality hay, while adding in grapes is his personal twist to maintain a working family farm. The family tradition of producing high-quality agricultural products in a sustainable and responsible way remains. When additional fruit is needed for their wine, Deerfoot sources from only the best growers.
Producing and sourcing the highest quality products is tasted in every Deerfoot Vineyards and Winery bottle. From berry to bottle, Brown and his team ensure the final product is good enough to deserve their name. The several awards and medals to their name show Brown and his team are accomplishing just what they have set out to do.
Art Appreciation
Do you like art? Deerfoot incorporates artist works onto its wine labels. With its labels featuring the work of several extremely talented artists, the bottles along with the wine inside become a piece of art. What about astronomy? The Brown's share a passion for astronomy. They share their passion with the farm's visitors by occasionally setting up their telescope for visitors to observe the stars and planets.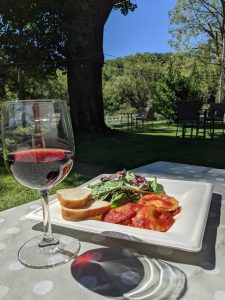 Brown and his wife Jamie encourage you to visit the farm and share a glass of wine. The farm's beautiful landscape provides views of fall's colorful leaves. The converted summer kitchen is a cozy spot to taste wine. However, with current COVID-19 restrictions it is too cozy to offer seating and proper social distancing. Grab a bottle or glass of wine from the walk-up window and sit and relax at a table under the farm's trees.
Supporting a local winery like Deerfoot Vineyards and Winery not only tastes better, but is an easy way to help our neighbors through the difficulties COVID-19 has caused. For Deerfoot Vineyards and Winery's hours and current visiting protocols, visit their website at wine.deerfootfarm.com.