Best Seasonal Photo Ops in Greater Reading, PA
By: Alicia Ahakinian, GRCA Intern
For every person and for every season, Greater Reading has plenty to offer, especially when it comes to picturesque views and fun places to visit! Check out the best photo opportunities that Greater Reading has to offer throughout the year.
Lush Greenery at Neversink Mountain Preserve (Klapperthal Trail peak)
91 Klapperthal Road, Reading, PA 
Hikes on the 900-acre Neversink Mountain provide breathtaking views. The Kalpperthal Trail views of the Schuykill River are beyond picture-perfect. In addition to diverse plant life, you may come across deer, turkeys, a variety of birds, small mammals and amphibians. Happy hiking!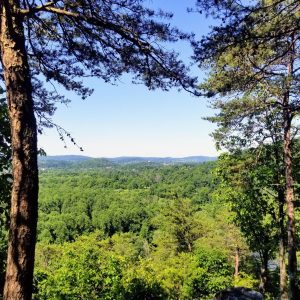 Blooming Sunflowers at Blue Marsh Lake 
Justa Road entrance in Lower Heidelberg Township
Blue Marsh Lake has become an outdoor recreation hotspot with 5,000 acres of land which includes 36 miles of trails and 1,147 acres of water for boating and fishing. As a part of the Greater Reading Trail System, the recreation area's trails are ideal for biking, walking and hiking. You might come across people horseback riding too! If you visit the Justa Road trail entrance during the summer, take advantage of the sunflower fields as the perfect background for your summer photos.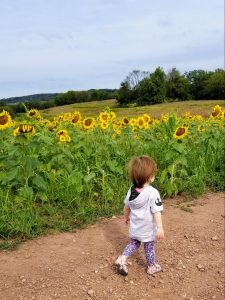 Fall Vibes at Gring's Mill Recreation Area
2083 Tulpehocken Road, Reading, PA
Gring's Mill Recreation Area facilities includes numerous recreation areas for sports enthusiasts in addition to a scenic trail system for walking, running or biking. Take advantage of the historic structures and capture all your fall pictures along the Tulpehocken Creek.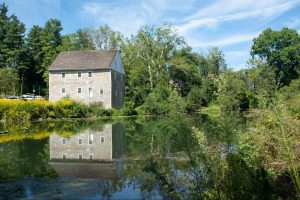 Pagoda – snowy urban views
98 Duryea Dr., Reading, PA
The Pagoda sits atop the south end of Mount Penn overlooking the City of Reading and has been a symbol of the city for more than a century. Standing 620 feet above the city the views are spectacular — especially on a clear winter day.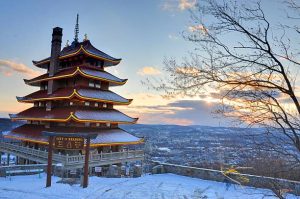 Public Art Around Greater Reading
Mural Walk in West Reading: Head to West Reading, grab a coffee (or a cocktail) and spend an hour strolling down Cherry Street and beyond to see over 45 vibrant murals, mosaics and sculptures. Learn more about the Mural Walk in West Reading at visitwestreading.com/public-art
Sculptures at the Reading Public Museum Arboretum: Take a walk along the Wyomissing Creek in the lush Reading Public Museum Arboretum. The Arboretum features nearly 30 sculptures throughout the 25-acre outdoor space including paved trails and footbridges. Stop in the Museum's atrium to pick up a free Arboretum guide or find it at readingpublicmuseum.org/arboretum
Public Art in the City of Reading: Public art can be found in all corners of the City of Reading. Many of the city's parks feature significant sculptures, statues and murals. Art can also be found in often overlooked spaces that make a perfect canvas like parking garages and vacant building windows. 
Bear Hunting in Boyertown: There are 75 colorful, life-size bears throughout Boyertown. Whether the bears are sitting, standing or walking, each bear is a unique piece of public art often created by the community. Ready to go hunting? Check out the map at bearfever.org/
History of Art in Kutztown: Did you know Kutztown, PA, is Keith Haring's hometown? Where better to exemplify his philosophy that art is for everyone? Kutztown University is home to a one-of-a-kind Keith Haring Outdoor Fitness Court. The Keith Haring Fitness collection is a limited edition, outdoor, public art collaboration with the Keith Haring Foundation and the National Fitness Campaign (NFC).
More public art around Greater Reading can be found here: bit.ly/rdgartmap