Rock On
Nothing draws a crowd quite like live music. Whether the food is good or the drinks are cold come second to who is playing that night. Throughout Greater Reading there are numerous bars and restaurants that offer live music (with no cover!), but B2 Bistro is certainly one of the newest and nicest locations. Every Friday night, from 8 p.m. to 11 p.m., a local artist or band plays. From country to folk to alternative rock, there is bound to be a genre that you'll like.
Luckily, when it comes food and drinks, B2 has amazing options for both. Whether it is a small plate or a 50-oz. steak, there is something for everyone. The bar menu features everything from Bud Light to a Maple Old Fashioned.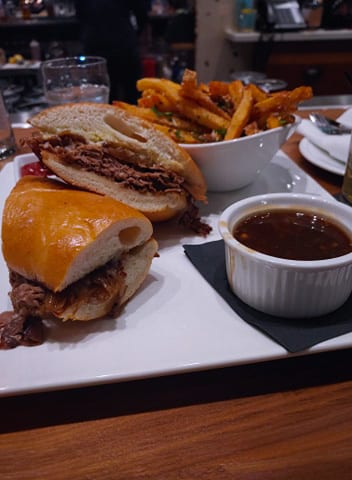 Local Talent
On one recent Friday night, Justin & Glenn, a local duo made up of Justin Fava and Glenn Hollenbach, who play late nineties to current alternative rock were B2's headliners. They played right in front of the pizza oven, which made them impossible to miss to the guests coming in and out of the restaurant. Before the band started, I grabbed a drink at the bar and ordered the French Dip sandwich. The sandwich, layered with prime rib, caramelized onions and provolone cheese, was the perfect meal for a cold February evening. The fresh cut truffle parmesan fries that came with were the perfect addition. Both the meal and music were equally great.
Free parking near West Reading also means you can head down the street to visit some of the previous destinations highlighted in this blog.
Where should we visit next? Comment below your suggestions!