In 2020, going out to eat feels like a vacation. If you want to feel like you have been transported to Santorini or Mykonos, Mazi is the place to go. Mazi is one of the newest restaurants in West Reading providing a Greek-inspired dining experience with a modern twist. From lamb chops to spanakopita, you can find all the classic Greek dishes in addition to a few new ones.
I enjoyed the Octopodi, an octopus served over red pepper hummus and shishito peppers. The wonderful earthy flavors of the red pepper hummus and the charred octopus were great together, and I highly recommend this appetizer to share with friends.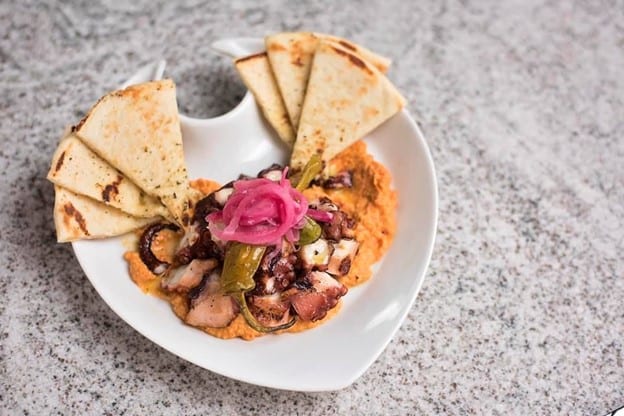 For drinks, take your pick. Mazi's fully stocked bar has everything from Miller Lite to Johnnie Walker Blue Label. One of their signature cocktails paired with your meal will have you feeling like you are on a beach in Greece. "Get Him to the Greek" is a great summer cocktail that blends strawberry, lemon, cucumber, basil and Ouzo to make you feel as good as it looks.
The Greater Reading area has countless offerings of food from different cultures, but this is one of the first sit-down Greek restaurants and it is in the heart of West Reading. I cannot wait until next spring and summer to stroll through the town and stop by for a drink and appetizer. Until then, grab your quarantine crew and head over to Mazi for takeout or dine-in and immerse yourself in the wonderful atmosphere. Maybe just for an hour you can feel like 2020 is behind you and you have traveled to the shores of a Greek isle.